Develop an adaptive approach to leadership to create a work environment that supports and drives employee performance.
Traditional models of leadership tend to focus on how leaders should behave, assuming that these behaviors and tasks will lead to high performance and success, regardless of context. In a simple and stable environment, this approach may be effective, but today's business world is far from simple or stable. As the corporate landscape becomes more changeable and complex — with multicultural teams, hybrid working, competitive markets, faster product cycles, digitalization and AI — there is an urgent need for organizations and their leaders to become more agile and flexible in how they respond. They should pay attention to the context in which they operate, be ready to deploy a range of leadership approaches, and adapt as their business landscape changes.
Based on years of research by the Program Directors, the Organizational Leadership: Driving Culture and Performance online program from the Institute for Management Development (IMD) is designed to enhance your impact as a leader. It explains how you can achieve this impact by improving and adapting the workplace environments you create for your business and teams. You'll be introduced to, and have the opportunity to create a Leadership Operating System (OS) built on the foundations of trust, clarity, and momentum. Over five weeks, you'll explore the elements of the Leadership OS and discover how to use it to motivate people and set the tone for organizational culture and performance. Walk away with your tailored Leadership OS action plan, ready to implement immediate changes in your own business.
Is this program for you?
This program is aimed at leaders who want to prepare for, and become more effective in, directing and supporting others to achieve objectives. It would benefit anyone who manages people — regardless of industry or company size — who wants to help foster a better working environment, and a more resilient organization. Mid- to senior-level leaders will gain a new approach to maximize their impact on individuals, teams, and, in turn, overall performance. HR specialists, strategists, consultants, and aspiring leaders will learn how to prepare for the challenges of a more globalized, uncertain, and complex business landscape. This program is for all managers and executives who would like to enhance productivity, motivation, and innovation in a disrupted business world.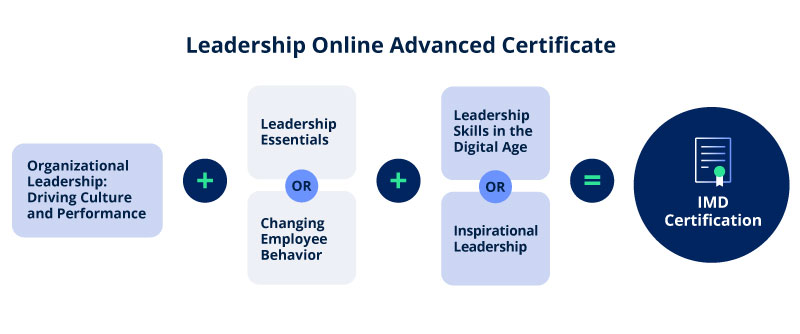 By taking the Organizational Leadership: Driving Culture and Performance program, you have the opportunity to accelerate your career with the IMD Online Advanced Certificate; a fully online experience that takes you on an in-depth exploration of topics that matter to you. You can customize your learning journey as per the visual path below. The online advanced certificate allows you to accumulate 7.5 IMD credits.

IMD is a triple-accredited academic institution, with the Financial Times ranking it first for its open programs, nine years in a row. IMD attributes its success to its unique "Real Learning. Real Impact" approach. Based in Switzerland and Singapore, IMD is led by expert and diverse faculty who use their insights, tools, and perspectives to prepare participants for the future of business. As an independent academic institution with a global reach, IMD strives to educate ambitious individuals and organizations worldwide.